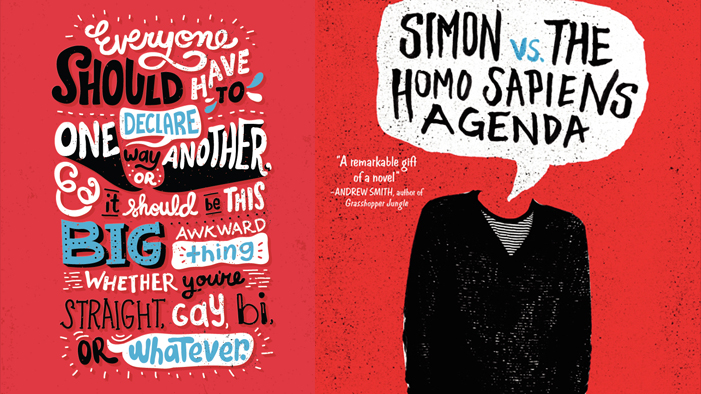 When you like someone, even if there's nothing weird about that person, and EVEN IF THEY LIKE YOU BACK, you don't want to tell the whole world about it until you're ready.
Here's what it looks like when you ARE ready to make a song and dance about your new special somethin':

YouTube/Fox Searchlight Pictures
But what about when you're NOT quite ready?
Simon vs the Homo Sapiens Agenda, the NEW GREATEST YA BOOK OF ALL TIME, out today, looks at what happens when the titular Simon finds his coming-out party has been put on the fast-track by a jerk at school intent on black-mailing him. Simon, we see in sweet email excerpts that look JUST LIKE OUR EMAILS (except wittier and with fewer GIFs of Chris Pratt), has formed a connection with a fellow student at his high school who goes by the anonymous username "Blue." Neither Simon nor Blue are "out," though Simon has no reason to believe his family wouldn't be supportive in that OH-SO-YA-PARENT-Y WAY when the time comes that he does want to communicate that detail about himself. Blue, on the other hand, thinks he might face a tougher reception from his fam.
Therein is the rub.
Martin Addison (aka "Martin Adderall"), a doddery awkward kid, hops onto a library computer one day to find Simon's anonymous Gmail account still logged in, containing the full, unabridged anthology of his epistles with Blue about Oreos and boy love. Ever the gentleman, Martin decides he can use this private information about Simon's identity to blackmail him into putting in a "good word" with Simon's friend Abby. OH, IT'S HOW ALL GREAT LOVE STORIES BEGIN, WITH THE BLACKMAIL. Simon's concern isn't purely how it will look if the entire student body finds out he is gay, but what that will mean for his burgeoning love-picnic with the could-be-anyone-at-his-high-school "Blue." Right when it's getting so good, it's like this adorable nerd romance is going to be stamped out by a thoughtless hoser.
What is so lovable about this book is that the whole narrative isn't "WILL SIMON COME OUT BEFORE THE TUMBLR OUTS HIM?!" but rather "What are the individually crappy things that Simon and each of his friends are dealing with?" His friend Abby, we know, lives a long bus ride across town from their school, in a black Atlantan suburb that sets her experience apart from her white classmates; Simon's sisters each seem to have secret concerns that don't reach him, even in his close, supportive, reality-TV-obsessed family; and Simon's long-standing clique offer that kind of effortless friendship you have with people who have known you since childhood, but who turn out to have their own complex dynamic going on.
YA author Becky Albertalli has done a bang-up job of looking at how all of us, around going to school and doing the extra-curriculars and Instagramming our pet voles and all that jazz, have the TOTALLY GIGANTIC TASK of figuring out who we are on top of everything else. Admittedly, figuring out who you are and broadcasting it to the world is easier if you're straight—that's the default, or the "agenda" of the book's title, as Simon points out—but everyone is going through a similar set of growing pains in high school, and this book just NAILS what that feels like. (Hint: not so great.)
We had crushable artist Risa Rodil pretty up our fav quote from the book (the entire book is a delicious quote-fest, but this one was particularly tasty):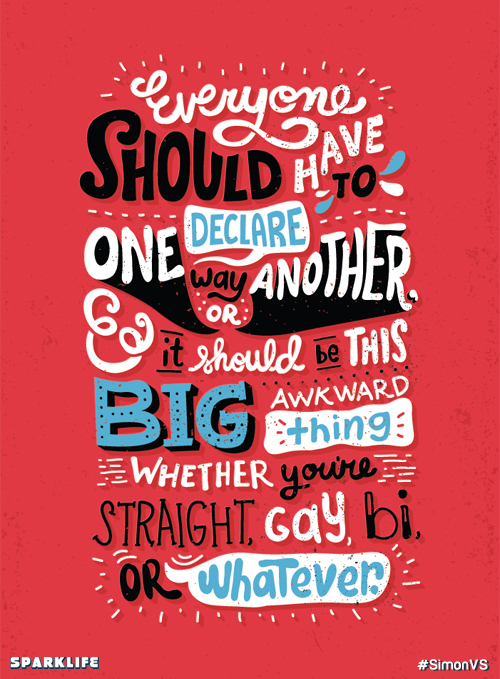 MOTION SECONDED.
If you loved the awkward bus rides that Eleanor and Park took together, or the see-sawing fortunes of Noah and Jude in I'll Give You the Sun, or the goofy prologue to romance lowercase will and Tiny pioneered in Will Grayson Will Grayson, then you will be SRSLY SMITTEN with Simon vs. the Homo Sapiens Agenda, which is a TRIBUTE TO AWKWARDNESS AND HOPE. Which is all we're ever looking for, really.
Read author Becky Albertalli's BNTeens essay about why coming-out stories matter here!
Are you ready to get on board the Simon and Blue ship? Are you dying to get your hands on this sweet, sweet book?! What are your other new fav YAs?!!
Trending on the Sparknotes Blog