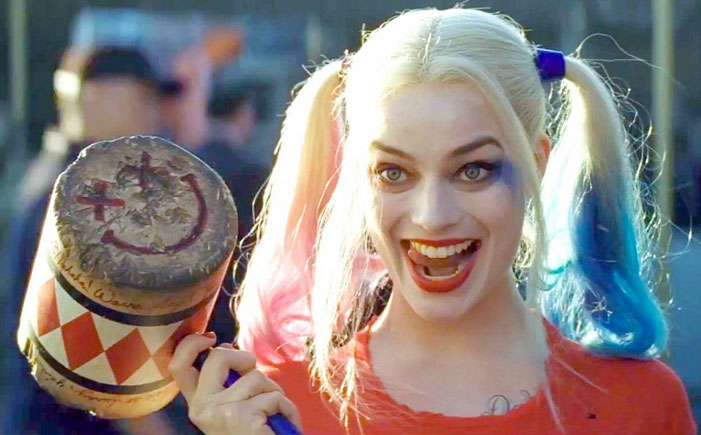 If Suicide Squad is your ticket, consider strutting down to your local Barnes & Noble for DC™ day on July 23, as a part of Get Pop Cultured. Be first in line for a free Harley Quinn and the Suicide Squad #1 Special Edition giveaway (while supplies last), show off your cosplay, and snap up a special offer on DC graphic novels. Full details here!
Trust: the Unpeggable Margot Robbie is going to be the best thing about Suicide Squad. I'm not just saying this because I'm still on the fence about Jared Leto, or because Margot Robbie seems like someone I would hang out with (if my friends were supermodels), but because Harley Quinn has been ~*DYING*~ for a makeover (see: every crowded con floor ever).
The newest iteration ditches the TGI Fridays color palette for a sort of whacked-out Godpsell villain look, complete with pastel hair, powdered face, blue and pink eyeshadow, and some choice body art. I've put together a super-easy Harley Quinn look based on Robbie's, which you could probably dial down for some covert cosplay, if you want to bust it out before Comic Con, or can't hold out for Halloween.
It's on point, no? Here's how easy it is.
Step one: Bright pink eye shadow
For these super bright colors, I have my Urban Decay Electric Palette handy. If you can't get this palette, you'll need to hunt down a bright blue and a hot pink eyeshadow. You might even be able to use hot pink blush as long as it's decently pigmented. I used a mixture of Savage and Slowburn from the palette, using more of the pink than the red. Dab it all over the lid until it looks as intense as it does in the pan.
Step two: Blend terribly \o/
Judging from the trailer, it looks like Miss Quinn has eyeshadow slipping down the sides of her cheeks. In some shots it looks intentionally blended downward, in other shots it looks like the result of sweat and tears. I'm going with the blended version, using a fluffy brush to blend the shadow out and downwards. If you'd like the drippier look, you'll be happy to know the pressed pigments in this palette can be used with a damp brush and applied like a paint.
Step three: Repeat with blue shadow
Once you've finished the pink side, repeat the same steps with the bright blue eyeshadow on the other eye. I used the shadow Gonzo for this.
Step four: Black eyeshadow as liner
With a black eyeshadow, we're going to mimic the look of intensely smudged eyeliner.
With a small stiff brush, apply the eyeshadow like a stamp. Don't blend it at all. Just dot the brush around the outer corners of the eyes and along the upper and lower lashes.
Step five: Mascara, applied haphazardly
Finish off the eyes with haphazard eyeliner to intensify darkness around the lashes. Then apply some clumpy mascara. You don't have to go buy a clumpy mascara, but it does help if the formula is at least on the wetter side so it has a better tendency to clump with too many coats. Once you've applied about four or five coats (no joke), gently press the mascara wand against your lid for some messy details. You basically want this to look like the worst mascara day ever.
Step six: Tattoos!
One edgy detail about this version of Harley is the facial tattoos. One is a heart, high on the cheek under the right eye. The other is lettering that spells "ROTTEN." I'm just going for the heart today, but if you have the skills and the time to write a serif font backwards on your own face, you're my hero. I recommend you use a gray eyeliner, then topping it off with some dark green matte eyeshadow. Tattoos are rarely ever jet black, and tend to fade to a dark gray-green.
Step seven: Crazy red lips
Now all you have left is those bright red lips with a little smear. I applied MAC Lipstick in Russian Red, then used a brush to smear it off to one side.
Step eight: Hair chalk or eyeshadow
Lastly, THAT HAIR. Fun fact: You don't need to run out and buy hair chalk. You can just use eyeshadows! You're going to be using a lot so I recommend using shadow singles on the cheaper side. I used some hot pots from Coastal Scents. Just press the shadow pan to a small section of hair and slide it down. Use a blue on one ponytail and a pink on the other.
YASSSSS.
Wheee! Look at the pretties! Harley Quinn. Pleased to Meetcha!
Trending on the Sparknotes Blog