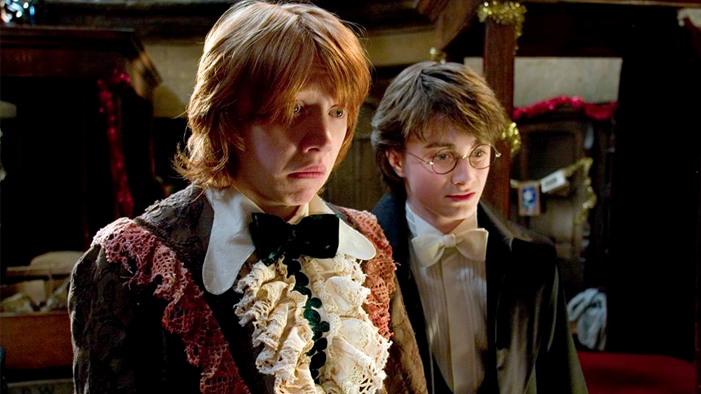 With the recent rash of book to movie adaptations, fangirls everywhere have been in quite a tizzy. Will the movies bring honor to their books of origin? THEY'D BETTER OR THERE WILL BE HEFFALUMPS TO PAY. Only time will tell! And in the meantime, we're reminiscing about some of our worst book-to-movie adaptation fears and the horrible adaptations that put them on our radar.
The Fear: Leaving out seemingly minor information will lead to a serious plot hole.
When did it happen? The Lord of the Rings trilogy.
If you've ever read anything about LotR on the internet, you've probably come across the theory that the entire 11-hour cinematic experience could have been avoided had the characters only flown on one of Gandalf's super fly giant eagle friends. (SEE WHAT I DID THERE? "FLY" IS A PUN.) However, this is explained in the books by the fact that the eagles are simply not domesticated. The only reason they were willing to take the gang back to the shire at the end of the books is because that one creepy animal wizard from The Hobbit asked them to. They also couldn't have flown in because the fellowship flying in on some eagles would have stuck out like Gollum at a Jane Austen dance party.
The Fear: The characters will look ALL WRONG.
When did it happen? Man of Steel.
SUDDENLY LOUIS LANE IS A REDHEAD??? We're pretty sure Mary Jane, Pepper Potts, and Jean Grey have alREDy covered the redheaded superhero girlfriend thing. Where are the brunettes?? (ALSO, as long as we're pretending DC and Marvel are listening, can we please have more super heroine movies?)
The Fear: Seeing the book in movie form will make you realize how crappy your taste in books is.
When did it happen? Ahem, er… The Twilight Saga.
I mean, what? Who said we ever liked Twilight? Not us! Heh… heh… heh… But seriously, we don't need an army of anti-fangirls constantly reminding us how bad our taste in books is was. WE WERE YOUNG AND IMPRESSIONABLE! IT WAS A DARK TIME IN OUR LIVES! WE'RE PAST IT! WE SWEAR!
The Fear: The movie is so great that no one will bother to read the book, which was even better.
When did it happen? One Flew Over the Cuckoo's Nest.
Sure, it might sound like the movie being too good isn't really a problem; BUT IT SERIOUSLY IS, YOU GUYS. Although the movie version managed to call up some serious questions about how we treat the mentally ill, the book version of One Flew Over the Cuckoo's Nest did that AND critiqued the increasingly mechanical nature of society as perceived by the schizophrenic Chief Bromden. So people who only saw the movie can stick THAT in their pipe and smoke it in their DVD player and watch it! (Except that they actually can't because, again, the movie didn't include those symbols.)
The Fear: Your favorite character will be written out of the movie.
When did it happen? The Harry Potter Series.
Was Peeves the most pivotal character? Nope. Did Peeves actually drive the plot forward in any way? Not that we know of. Were there worse things that were changed when Harry Potter was adapted into movie form? Absolutely. But were we disproportionately upset when Fred and George didn't get to yell, "give [Umbridge] hell from us, Peeves" as they rode off into the sunset in one final act of defiance? YOU BET YOUR SWEET SCRIMGEOUR WE WERE.
The Fear: The change will be so subtle that you can't even complain about it to your friends.
When did it happen? Scott Pilgrim vs. the World.
Let's be honest, the one redeeming part of a bad adaptation is getting to rage about how terrible it was to your fellow fangirls. SO WHAT DO YOU DO WHEN THE MOVIE VERSION OF YOUR FAVORITE GRAPHIC NOVELS MADE IT SEEM LIKE KNIVES WAS BETTER THAN RAMONA BECAUSE THEY WERE GOING TO CHANGE IT SO THAT KNIVES AND SCOTT ENDED UP TOGETHER, BUT THEN THEY DIDN'T CHANGE THE ENDING AND INSTEAD THEY JUST LEFT IN ALL THE PARTS THAT MADE KNIVES SEEM COOLER THAN RAMONA???
You mutter about it bitterly to yourself. That's what you do.
The Fear: The movie won't even resemble the book.
When did it happen? Percy Jackson and the Olympians A Series of Unfortunate Events
Why aren't we talking about Percy Jackson, you ask? BECAUSE IT WAS LITERALLY SO TERRIBLE THAT WHEN WE TRIED TO WRITE ABOUT IT ALL WE COULD DO WAS SOB INTO THE KEYBOARD.
So anyway, A Series of Unfortunate Events tried to condense a masterfully-crafted 13 book series into a 108 minute film BEFORE THE FINAL TWO BOOKS HAD EVEN BEEN PUBLISHED. Needless to say, the sham of a movie, which only vaguely addressed aspects from the first 3 books before making up a completely ludicrous ending that turned the innocent Baudelaire children into murderers LEFT A FEW THINGS TO BE DESIRED.
What's your greatest book-to-movie adaptation disappointment?
Trending on the Sparknotes Blog