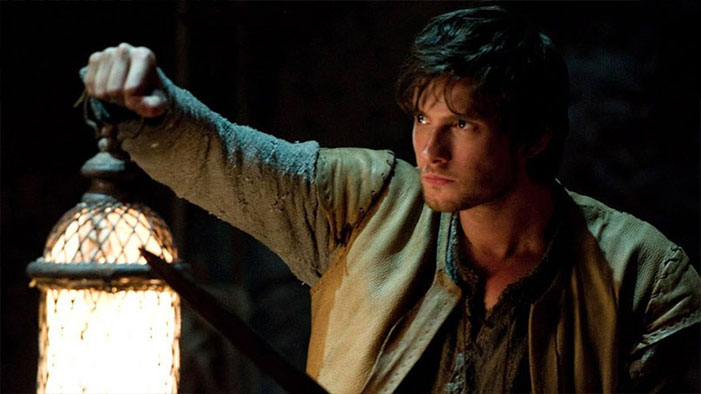 For those of you who still have posters of Prince Caspian on your walls and/or have put careful consideration into where you would store your soul if you had to create a horcrux, a blood moon has arisen to give you a once-in-a-lifetime treat: BEN BARNES AS THE SPOOK'S APPRENTICE. Don't stray out after dark, for your hearts are at risk of bursting into flames like a ghast under a tincture of iron and salt.
Seventh Son hits theaters TOMORROW, and if you loved reading Joseph Delaney's Last Apprentice series, you are seriously going to tip over your wagon when you see the film adaptation, which brings us MORE MAGICAL BEINGS and MORE BOGGARTS, along with an EVEN MORE TERRIFYING MOTHER MALKIN (Julianne Moore). But the best part about the film is undoubtedly Ben Barnes, who plays Tom Ward, the seventh son of a seventh son, who gets the worst (or best?) internship of all time with a cranky old Spook (ghost-slayer) known as Master Gregory (Jeff Bridges in a role that is part-The Giver, part-True Grit's Rooster Cogburn, part-The Dude, and all parts awesome).
Tom finds his apprenticeship a little difficult (if you think slaying a shape-shifting leopard-demon is ~difficult~), but a foxy witch (Alice, played by Alicia Vikander) complicates matters further—she's related to the witch queen, Mother Malkin, who is cooking up all kinds of bad magic in her mountain fortress. Will Tom's spongecake heart derail his training? All I will say is that Ben Barnes is a soulful, soulful man, and his portrayal of Tom will definitely get your wagon wheels spinning.
In a turn of events that can ONLY BE ATTRIBUTED to blood magic and/or the work of a benevolent spirit, SparkLife got to MEET AND INTERVIEW BEN BARNES (YES, PRINCE CASPIAN OF NARNIA), THUS ACTING OUT YOUR LIFE'S DREAM, and I can report that he is even more of a prince in person. When I met him in his hotel suite, he was all "why hello there" and I was all "oh hey, what's up, you're okay." What I wasn't prepared for was JUST HOW CHARMING THIS MAN IS. He is a living, breathing Disney prince but also the FUNNIEST, MOST AFFABLE HUMAN BEING OF ALL TIME and a gigantic Harry Potter nerd to boot. We talked boggarts, fantasy lit, musicals, ghasts, secret nerd habits (JUST WAIT UNTIL YOU READ HIS), and working with living legend/zen dude Jeff Bridges, and EVERY SECOND OF IT WAS JUST AS AMAZING AS YOU ARE THINKING. Read the interview to immerse yourself, then run out and watch the film/dip yourself in a cool river to recover. I am going to call it now: This was the greatest interview of all time. *cue stone table breaking*
SparkLife: You have taken on two roles from big fantasy series—Prince Caspian in The Chronicles of Narnia, and now Tom in the Seventh Son—are you a big fantasy fan? 
Ben Barnes: Yes, I am, I've watched every fantasy series going, I read them. I actually studied children's literature at university as part of my course, so I literally wrote dissertations about Harry Potter* and Phillip Pullman's Dark Materials, and I even wrote about The Lion, the Witch and the Wardrobe, weirdly, before I signed on.
You're a super nerd!
Not—I, I mean, yeah. Yeah, I am. I read the Narnia books when I was eight and I've still got my copies of them, so I was a fan of this stuff and I've always liked the Robin Hood and damsels in distress, just the whole canon of fantasy literature. And I thought the Delaney books, while very different from the film in a lot of ways, have a lovely dark but quaint spirit to them. They're quite idiosyncratic—I've read about five or six of them. I haven't read all of them but that's because the film started and I ran out of time.
[TIME OUT: BEN HAS LITERALLY WRITTEN PAPERS ON HARRY POTTER. THIS MAKES HIM A SPARKLIFE GOD. WE WILL PAY $1000 TO THE FIRST PERSON TO DELIVER ONE OF HIS PAPERS TO US FOR ANALYSIS. IN THE MEANTIME, WE WILL BE OFF IN A BARROW, NURSING OUR HEART SPASMS AND RECITING WORDSWORTH TO OURSELVES.]

Oh, here he is just slaying a shape-shifting demon (YouTube/Warner Bros/Legendary)
Do you ever think about or worry about pleasing the existing fandoms when you're trying to find a way to do those roles?
If you try to adhere exactly to the letter of what's on the page, you can get it a bit wrong. If you're not trying to do exactly what's on the page, and just doing your own thing, you're creating a new piece of art and hoping people will enjoy that for what it is. I always go into a film hoping for a transcendent experience, something that will either transport me away for a few hours, or something that will intrigue me or excite me or terrify me or whatever it is, to really pique my emotional capacity for that day. And this is kind of different, I think it's got some really interesting themes about the dark and light inside of everyone, and about fate and destiny versus free will, but I also think it's just really fun, and it's a cool setting with dragons and ghosts and ghasts and boggarts and witches and warlocks and magic and alchemy and that's just such a fun blend.
There is a scene where you get accosted by a boggart and you're on the carriage with Gregory and it's raining, and Gregory is in his black raincoat and you're the apprentice and you only get like a thermal top, like he is *shakes fist* "You will earn your raincoat, you are still an apprentice!" 
My white hoodie, yeah yeah—[Gregory's] coat is cool because he can sit up out of it, it's like a tent. They actually use that coat later in the film as a tent. It's a yak!
Oh yeah, they DO!
But you're RIGHT, because by the end of the film, I get a cloak and a black hood, and he gives me the tattoo.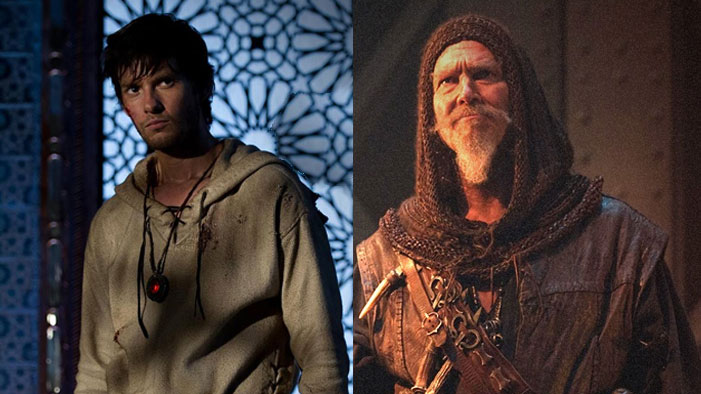 YOU WILL EARN YOUR RAINCOAT: Spook's apprentice Tom Ward gets only a thin white hoodie, while Master Gregory gets a fancy leather/felt raincoat thing with hood. (Warner Bros./Legendary)
It's an interesting premise for a teenager, the role of "you still have many things to learn" and he has to learn them from this incredible man, the Spook.
I think like anything, it's not necessarily about the subject you're learning, obviously if you're interested you're going to pay more attention, but it's about who's teaching you. I think sometimes you learn to like subjects at school, for example, because you like a particular teacher, you know the way they are telling you something is appealing to you. And he doesn't really get that in the beginning from Master Gregory because [Gregory] is so grumpy and dismissive and negative about everything, but he has to realize it on his own, and at the end of the film, Gregory says, "Remember everything I told you?" And I say "yes." [He says] "Forget it," because sometimes you need to learn all the rules to know which ones you can break.
Can you tell me one or more ways to kill a boggart?
Well, my teachings on the subject of boggarts are a tad unreliable, as I say in the film, because [Gregory] thinks that they hate water, which they obviously don't, and he thinks that they are blind, but they seem to be looking right down the tunnel. So we don't really know much about boggarts, we just know the different types.
[THIS IS A PERFECT ANSWER, AS YOU WILL SEE WHEN YOU WATCH THE FILM. I WAS NOT PREPARED FOR MY CAREFULLY CRAFTED "GOTCHA" QUESTION TO MEET SUCH PERFECTION AND INTELLIGENCE.]
Correct. I would also have accepted "iron and salt" or "the Riddikulus charm." In the Harry Potter universe, boggarts transfigurate into your worst fear. What shape would your boggart take?
Oooh. Probably rodents? Of some kind. Mice or rats. Sometimes I wake up in the the night and think there is like a rat on my … bed, or on my side table, and I turn on the light and it's just a shadow or something. It's the Princess Bride—the rodents of unusual size.
[YES, HE JUST REFERENCED YOUR FAVORITE CHILDHOOD MOVIE.]

AAAHHHHHHH, TOM AND ALICE! (YouTube/Warner Bros/Legendary)
You've played some fairly romantic characters on film, what sorts of roles did you play in your musical days?
I played all sorts of things, I played a rock 'n' roll drummer called The Wolf in a musical called "Sex, Chips and Rock 'n' Roll" that played at the Royal Exchange Theater in Manchester,** and I have just done a film actually that I play a musician in, it's called Jackie and Ryan with Katherine Heigl, it's really sweet, so I learned the guitar for that, and learned a new blues style of singing, which was really fun.
Because you're classically trained, right?
Yeah, this is totally different, this is kind of old folk-blues, really cool.
Tom and Gregory have such a fun rapport in the movie, and we got a good taste of you and Jeff Bridges in the press conference…
[EVERYTHING JEFF BRIDGES SAYS IRL IS HILARIOUS, AND BEN COULDN'T STOP LAUGHING IN THE PRESS CONFERENCE EVERY TIME JEFF DROPPED A ZEN KOAN LIKE "YOU KNOW, APPLE TREES MAKE APPLES, AND THE UNIVERSE… MAKES PEOPLES." IT WAS FRIGHTENINGLY ENDEARING.]
I'm so in awe of him.

Tom and Gregory get their rapport on (YouTube/Warner Bros./Legendary)
Do you have any good Jeff Bridges stories?
Well, the funny thing was he was a bit wary of our relationship at the beginning, because there was a distance between Gregory and Tom, and we shot in order so he was kind of, not avoiding me, but kept me at arms length in the beginning and then one day he just sort of grabs me by the hand and says, "Yo man, what do you think of this song for the end credits?" and played me the Bob Dylan "Ring Them Bells" song in his tent, and he was like "Sit in my chair. Comfy man? Comfy? Okay, here we go, yeah, 'Jamin"—he calls me ''Jamin'"—and then the next day I came in and he had ordered another one of his chairs,  because I was like "oh, so comfy," he'd ordered another one and got it and put it next to his. [NOTE: Ben's impression of Jeff Bridges is to bang on.]
Did he put 'Jamin on it?
No, but I still have it, it's in my garden now, it's my little zen place, because that's what he would totally want it to be.
He really is the Dude.
*nods* He's… awesome.
[IF IT'S OKAY WITH ALL OF YOU, I WILL BE HEREAFTER REFERRING TO BEN AS 'JAMIN IN ALL MY CORRESPONDENCES.]
There is a discussion on the site right about about dreamcasting Harry Potter prequels and sequels.
Are they making them?
No, it's purely hypothetical…
[OH BOY, I WAS BRIEFLY WORRIED THAT HE WOULD THINK THAT I WAS INSANE FOR ASKING HIM ABOUT HYPOTHETICAL FANDOM CASTING, BUT IT IS OKAY: HE WAS ON BOARD BECAUSE THIS IS THE MAN WHO WROTE DISSERTATIONS ON HARRY POTTER AND HAS A DEGREE IN PHILLIP PULLMAN.]
… But your name came up for Sirius Black.
Well who wouldn't want to be Gary Oldman, let's be honest.
[PHEW]
Do you have a secret nerd habit?
Yeah [exhales] lots. I'm… pretty obsessive when it comes to putting my clothes away in the closet, like black t-shirts with no patterns, colorful t-shirts with patterns, colorful t-shirts without patterns.
Is your wardrobe… Pinterestable?
It's not necessarily enviable. It's just I like to have things in order in my kitchen and bedroom, and I feel like they're in order in my head. [*Nervous adorable smile*]
You are fantastic, thanks so much for chatting with me today. Can I tell everyone we are friends?***
*As we all know, Harry Potter scholarship is a gateway to Miltonian scholarship.
**I looked this up, and it sounds amazing.
***I did not say this out loud.
Note: This email was edited for clarity and to remove all the parts where I could audibly be heard mouth-breathing onto Ben.
DO YOU SEE??? ARE YOU ABOUT READY TO BURST INTO FLAMES NOW YOU HAVE GOTTEN TO KNOW BEN EVEN BETTER AND ARE ACQUAINTED WITH HIS PENCHANT FOR FANTASY? ARE YOU DYING TO SEE BEN WIELD THE SPOOK'S STAFF AGAINST EVIL AND TUMBLE INTO A TURBULENT RIVER IN HIS THIN WHITE HOODIE? FEEL FREE TO LEAVE YOUR MESSAGES OF ADORATION/SCHOLARLY QUESTIONS FOR BENJAMIN HERE IN THE COMMENTS, FOR HE WILL SURELY BE STOPPING BY THIS ARTICLE TO RELIVE THE GLORY OF OUR INTERVIEW.
Trending on the Sparknotes Blog