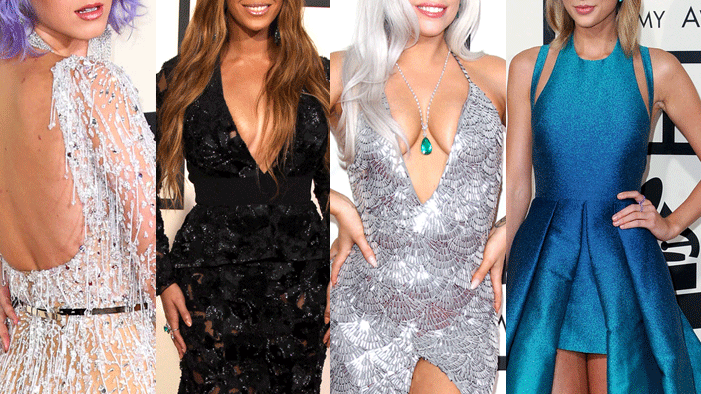 Do you like to step out a) in style, b) with a crew of your besties, or c) wearing nothing but bubbles? Find out your INNER POP DIVA by answering these ten questions!
1.  It's the first day of school and you want to make an good impression. You go into your closet and pull out:
A.  A classic white tee, flannel button-down, House of Dereon skinny jeans and maybe some platforms? Flawless!
B.  Your closet? Good one. You head straight to the refrigerator and make a dress out of your family's sandwich meat. It's a bold statement that also saves you the trouble of having to make a lunch.
C.  You opt to mix and match flirty prints but mostly let your freshly-dyed neon hair do the talking!
D.  A striped crop-top, high wasted short-shorts and Oxfords. Think a mainstream but cleaned-up hipster.
2.  You and your girlfriends are having a much-needed "girls' night." What do you do? 
A. Dance around your house in various locations and record your choreography with a selfie-stick for later viewing!
B. Unwind with some jazz and watch some black and white American classics!
C. Go nuts on some junk food, talk boys and play dress-up! You're never too old for dress-up.
D. Relax with your inner circle and take just enough black and white Instagram photos to make America jealous.
3.  A reporter from the school newspaper asks you about your love life. How do you respond?
A. Let's get one thing clear… Who run the world? GIRLS!
B.  As artists, we are eternally heartbroken. But hey, I was born this way baby.
C.  I don't need a prince charming to have my own happy ending. And you're gonna hear me roa-a-a-a-a-oar!
D. If you're horrible to me I'm going to write a song about it.  I've got a blank space baby and I'll write your name.
4.  What's your favorite city to visit?
A.  Houston, Texas Baby!
B.  Los Angeles. You're definitely a California girl!
C.  New York, New York. So nice they named it twice!
D. Nashville, Tennessee. The birthplace of country music. (Actually that was Bristol, TN, but it's close enough).
5.  You're helping plan the playlist for this year's homecoming dance and you absolutely MUST make sure the DJ plays…
A.  Kanye West's "All of the Lights"
B.  "Hallowed be thy Name" by Iron Maiden
C.  Queen's "Fat Bottomed Girls"
D.  "Walking after Midnight" by Patsy Cline
6.  When asked how you feel about MAKEUP, you'd probably say something like…
A.  It doesn't matter because, I woke up like this. (I woke up like this)
B.  Do these prosthetic facial horns count as 'makeup?'
C.  I'm easy, breezy, beautiful… Cover Girl.
D.  Red Lips. The End.
7.  Congrats, you're getting a pet! Any animal you'd like! Naturally, you pick…
A.  A really chill dog. Like Snoop Dogg. Only an actual dog. Or maybe bees?
B.  Probs a flamingo? Or a small dog dressed as a flamingo?
C.  Do those large snakes come in yellow?
D.  The cutest kitty ever! He'll have his own Instagram. And a million followers.
8.  Which food turns your eyes into hearts?
A.  SOULFOOD… mmm!
B.  Italian! Especially pasta.
C.  PopChips (wink wink).
D.  Cheesecake, yum!
9.  ______ is the color of your energy.
A.  Gold
B.  Black. Although technically black isn't a color as much as it's the absence of color
C.  Rainbow
D. Red, duh.
10. If you could write a song about any of the following, which would it be?
A.  Being a woman and OWNING IT!
B.  Your love for the spotlight.
C.  Fun summer nights!
D. Feeling misunderstood. Especially when it comes to your love life!
If you answered Mostly As, you are…


BETTER HIRE YOUR OWN DOCUMENTARIAN CREW, because you are making history, bey-bey. You're a feminist, and you're NOT AFRAID TO SAY IT-SLASH-POSE IN FRONT OF IT. You're the queen bee.
If you answered Mostly Bs, you are

A tinkler on the ivories since before your feet could reach the pedals, you're a musical pioneer who isn't afraid to ask, "What if I sang in a melodic minor WHILE WEARING A DRESS MADE OUT OF PARMA HAM?" You're wildly entertaining, unpredictable and you absolutely LIVE for your art.
If you answered Mostly Cs, you are…

Get out your skin-tight jeans, because you are truly a teenage dream. You've got your driver's license and a license to raise the roof. Your bra cup size is a double sno cone.
If you answered mostly Ds, you are…

YOU ARE ALL OF US: the nerd in band practice and the red-lipped Santa Claus of our philanthropic dreams. Owner of the world's most secretive belly button, people can't help but love you. You top ALL our charts.
Who is your pop mentor?
Trending on the Sparknotes Blog