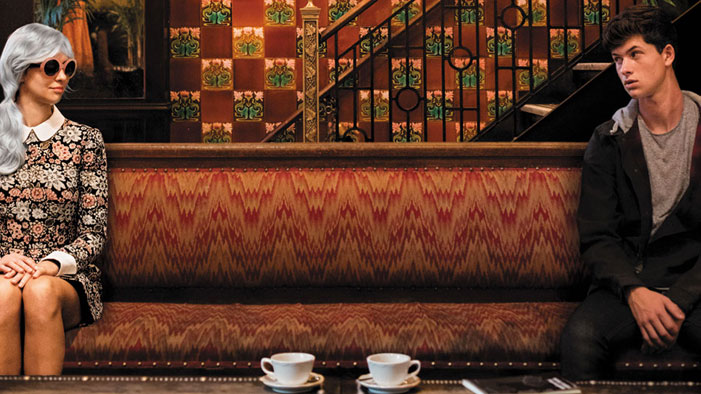 Last year, there was a mini explosion of excitement for We All Looked Up, Tommy Wallach's novel about four Seattle high schoolers who wake up one day to a small green dot in the sky, discovering that a meteor may or may not obliterate everything in a few week's time. Just the fact of their probable annihilation changes their lives, in the same way old Nirvana songs sound way more meaningful because Kurt Cobain is gone. Lots of readers saw shades of The Breakfast Club in the story, as unlikely buddyships formed between the characters—each looking for answers, and met with military curfews and lock-ins and violence. In that book, the end of the world set off apocalyptic hookups, rapid coming-of-age, and teen emancipation, as everyone tore about looking for the place they belonged in time to say goodbye.
Tommy's new book, Thanks for the Trouble, out today, asks how you find meaning *without* a hard deadline. Our hero, Parker, is a non-verbal teen who likes ditching school to hang out in old hotels. He's a bit of a Holden Caulfield, if Holden's wounds were easier to spot at the outset; also, Parker's reliance on a notebook to communicate doesn't allow him the brash overconfidence that hooked everyone when they discovered Catcher in the Rye ("One of the biggest reasons I left Eton Hills was because I was surrounded by phonies." <3). You get nabbed by Tommy's story when Parker encounters a rare bird* in the lobby of one of San Francisco's oldest hotels. "Zelda" (=/= Fitzgerald) is a pretty enigma with silver hair and a giant wad of cash who tells Parker that she plans to jump off the Golden Gate Bridge after giving the last of her money away.
Both are very good at whipping up stories: Parker writes melancholic little fables in his book that win over Zelda; Zelda tells Parker that she was born in Germany 240 years earlier but doesn't age, and is tired of taking in the "grief"of the world, hence the bridge. Everything gets heavier the older you are, as you know. But is she telling the truth?
Part-Looking for Alaska, part-Belzhar, the book is incredibly sweet, and the halfway-fantasy aspect distracts you from all the big ideas Tommy Wallach slips into it. After finishing, I had a bit of a think about how you can reimagine John Green's books (for example) as folktales: "Paper Towns a is the story of a boy visited by a magical girl in the night who disappears into the forest. The boy searches for her and journeys far, far away, only to find she has turned into someone different." One of the best and least disguised YA fables is John Marsden's The Journey, while you may remember that SparkLife's own Kat Rosenfield created an incredible magic realism tale with the mermaid-tinged Inland. That mildly supernatural style allows you to look past the mundane details of your life as a teenager ("Ugh, homework. Ugh, parents and teachers.") and view it as something more monumental, which it *is.*
I feel like "Ways YA Authors Have Gotten Rid of Parents Through the Ages" could be a great 50,000 word essay, and my brain felt really busy chewing this over while I tore through Thanks for the Trouble. Tommy Wallach even discussed it in his recent fan-obsession/confession piece about the movie Labyrinth ("Then she disappears forever, as parents always must in fairy stories."). Anne of GG and Harry Potter are orphans; Huck Finn is the son of a useless drunk; Katniss's dad is gone; John Green's parental figures are benevolent softies who only want the best for their children, but are always powerless to help. In Thanks for the Trouble, Parker's dad died in the same accident that caused his verbal disability, and his mother is struggling along in the aftermath. Zelda has outlived her parents by, oh, some hundreds of years. She's kind of the perfect invention: a teen who is old enough to serve as the spiritual guide in her own book.
If this sounds like it's YOUR NUMBER, you should just read it, because I don't want to spoil the ending, which, AMRGHH, but also mmmghfff. If you're not yet sold, let me offer up a morsel of Parker's prose to tip you into running-out-and-getting-this-book territory: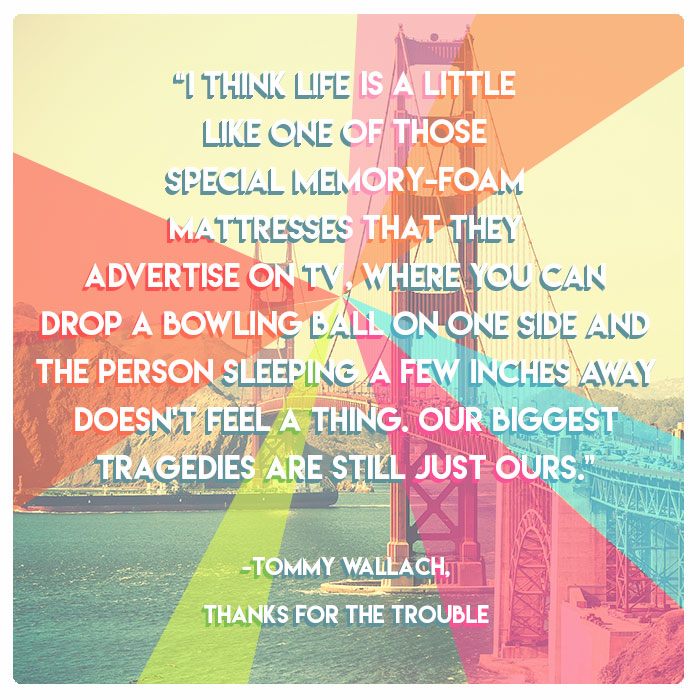 *Her kind of language.
Have you discovered Tommy Wallach yet, and/or are you a sucker for a light dash of the supernatural?
Trending on the Sparknotes Blog