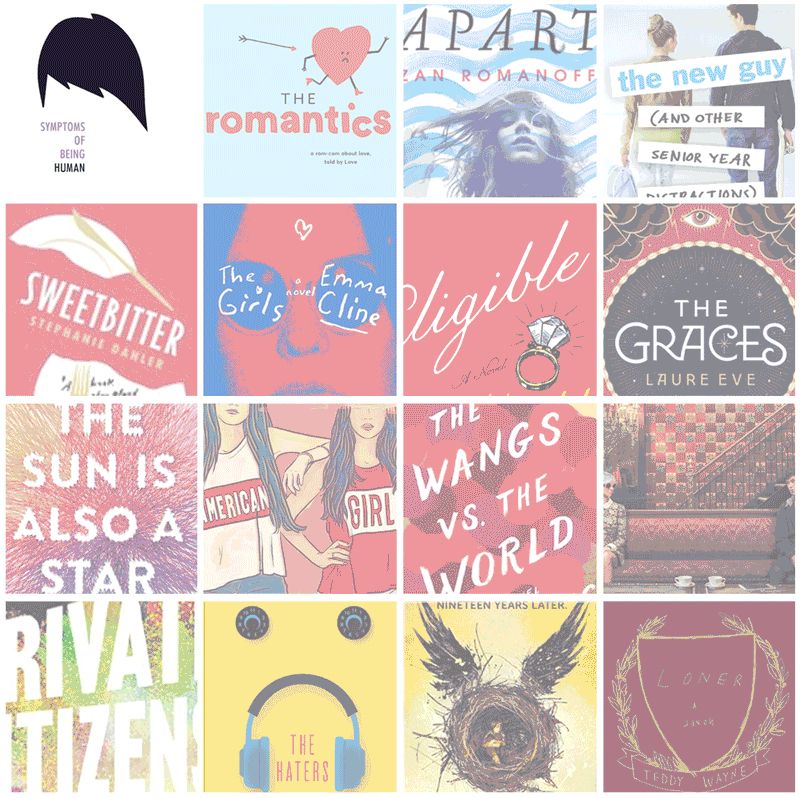 Whether or not you're feeling like 2016 went down as a garbage fire of malcontent, it was a banner year for fiction, especially if you:
are not averse to hexing people,
wanted a love story to restore your faith in the universe,
were after smart, funny fiction to help explain this mad, mad world,
or just generally wanted to back into a hedge/book and pretend you were somewhere far, far away.
Narrowing down a year's worth of brilliance to just 16 titles was difficult, but these are the books that have stuck with us weeks or months after reading them, or the ones with the crushiest authors. Trust, there is something here for you. We've broken them down into four categories, in case you want to jump ahead. Happy reading!
Best books for when you're feeling witchy
Best books for feeling mindblown
Best books for when you need a hug and/or rom-com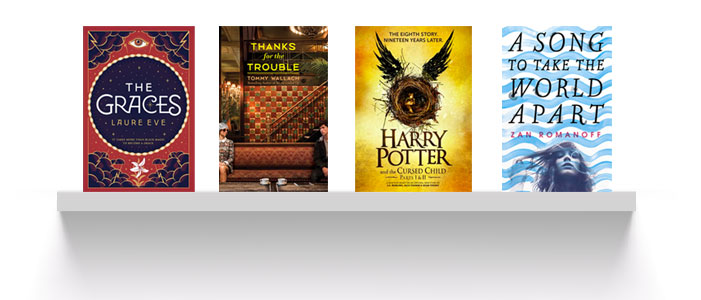 The Graces
Laure Eve
River (*not her real name) moves to a small coastal town with her mother to escape some disturbing event that appears to be her own fault. (SO VAGUE.) When River discovers at her new school that the ethereal Grace siblings—Thalia, Fenrin, and Summer—are rumored to be witches, she does everything in her power to get them to notice her. But her obsession is not about having an in with the student body A-list; it's about decoding their potential witchiness, which is magnetic to her in a way that makes us think there must be *something else* going on here. (There is.)
Whereas Harry Potter spells are tangible and mostly straightforward, magic in Graces is murkier and constantly questioned. Are the Graces just having a bit of fun with the witch rumor while it lasts, or do their spells actually cause otherwise inexplicable incidents? River isn't sure, and the Graces aren't quite either. I love this deliberate uncertainty—how and why the characters question magic = all of us still waiting on our Hogwarts letters. —Emily Brown
A Song to Take the World Apart
Zan Romanoff
Lorelei has been raised for the most part by her Oma, who stepped in to help Lorelei's heartbroken father after her space cadet mother Petra took off. When her friend Zoe drags her to a show, Lorelei develops a crush on hottie muso Chris and discovers that she, like her grandmother and mother, has a mysterious power over men that derives from her singing voice.
Whether you're a devoted reader of Homer's Odyssey familiar with the witchy ways of his sirens, or just someone who can't resist dialing up your headphones to eleven when a good song comes on, you will relate to the feeling of coming to in your body and realizing the power you can have over other people to love and to hurt them; the desire to make them like you.
There is also a compelling thread about the womyny knowledge contained by your female relatives, and the magic that you can feel when you let someone into your head + heart. —Janet Manley
Cursed Child
JK Rowling, John Tiffany, and Jack Throne
Cursed Child revisits the original story we all know (Triwizard Tournament, woot!) and gives us some fresh faces—the story centers on Harry's son, Albus Severus, and his sweet Hogwarts buddy Scorpius Malfoy, aka Draco Jr.—but we also get a look at the OGs of Dumbledore's Army all grown up, as well as some characters you might not have expected to see again…
I liked that the story relied on the original canon without changing or invalidating it, and without feeling overly contrived—the story plays to hardcore fans without becoming inaccessible to newer ones. The reason I was so often on the brink of tears was because I'm a hypersensitive trash baby, yes, but also because the narrative takes place in the wizarding world we all grew up in. They would briefly mention a minor character from way back when and I would be like "HELL YES, THE GANG'S ALL HERE." That said, it isn't taking a trip down memory lane purely for the sake of nostalgia, nor is it trying too hard. —Elodie
Thanks for the Trouble
Tommy Wallach
Parker is a non-verbal teen who likes ditching school to hang out in old hotels. He's a bit of a Holden Caulfield, if Holden's wounds were easier to spot at the outset; Parker's reliance on a notebook to communicate makes him a bit more obviously vulnerable.
Parker encounters Zelda in the lobby of one of San Francisco's oldest hotels and his day goes off the rails right about then. "Zelda" (=/= Fitzgerald) is a pretty enigma with silver hair and a giant wad of cash who tells Parker that she plans to jump off the Golden Gate Bridge after giving the last of her money away.
Both are very good at whipping up stories: Parker writes melancholic little fables in his book that win over Zelda; Zelda tells Parker that she was born in Germany 240 years earlier but doesn't age, and is tired of taking in the "grief"of the world (hence the bridge). Everything gets heavier the older you are, as you know. But is she telling the truth? Read if you are a sucker for a light dash of the supernatural. —Janet Manley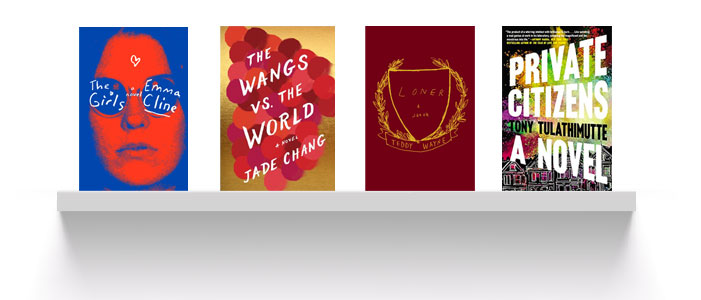 The Wangs vs. The World
Jade Chang
I don't know if there is any realness to the idea of the Great American Novel, but if there is, Jade Chang's very-hyped debut would have to qualify, turning the all-American road trip on its head as the formerly ric$$$ Wang family traces a path from West to East after dad-in-chief Charlie Wang loses his makeup empire overnight. Overnight, teenaged Grace, college-aged-but-still-virginal Andrew, and chic artist Saina find their safety net (an ~enviable~ trust fund) dissolving before their eyes, and the America they took for granted pulled out from under their feet.
It's an immigrant story, sure, but the Wangs give us such a hilarious way to ask yourself what the American Dream is rn: is it owning an organic farm in upstate New York? Reinventing yourself every day in clever outfits for your killer fashion blog? Finding the comedy in the contradictions you feel between where you came from, and where you see yourself? Having a buttload of money, or gaining the recognition of those with cultural cachet?
(Oh man, and I forgot about Barb! America always forgets about Barb.) —Janet Manley
The Girls
Emma Cline
After a brief run-in with the charismatic nineteen-year-old Suzanne, in all her long-haired hippy glory, fourteen-year-old Evie runs away to join "Russell," a Charles Manson stand-in (relocated here to a commune outside San Francisco), and the girls who form his harem, worship him and, yes, sleep with him. For Evie, though, the real attraction is to Suzanne; the alpha Russell girl, of sorts, who possesses the worldly, parentless affect that you always marvel at in people older than yourself. Suzanne just seems to know exactly who she is. She lets Evie borrow her clothes, borrow her style, step into Suzanne's life to try it on. She escorts Evie into Russell's orbit, goads her on.
At first, Russell's ability to "see" the girls, to tell them who they are, and to validate them by inviting them into his bed, is gratifying; proof they are women, beautiful, wanted. But as Evie becomes more entrenched in Russell's world, his power over them becomes stronger and stronger, and the girls' ability to snap out of their trance becomes weaker and weaker.
It is frightening to realize how vulnerable girls this age are; more so when you've made it through that period and look back on the stupid things you did, the terrible people you trusted, the good people you hurt. —Lauren Passell
Loner
Teddy Wayne
David Federman is a socially awkward dude from New Jersey who got into Harvard, and is determined to reinvent himself as a successful ladies-man, academic standout, and general winner. From the start, things don't go as planned: David's friendship prospects appear limited to a crew of nerds who call themselves the "Matthews Marauders"; his only romantic prospect is the ever-allergic, lactose-intolerant Sara; and he finds himself excluded from the elite clubs within Harvard's grounds. Not to be deterred, David fixates on the sophisticated Manhattanite WASP, Veronica, to whom the entire novel is unnervingly addressed. His strategies to get close to Veronica include a) offering to help her study ("I deleted your tenth-grade paragraph and began writing in Harvard-level prose") and b) dating her roommate, Sara ("As I dozed off to the white noise machine, I stroked Sara's arm, mentally elongating it until it reached your lithe proportions.").
Uh, are you creeped out yet?
As his project to win over Veronica verges on terrifying, he becomes a study in the dangers of isolation, preconceptions, ambition, and male entitlement. The ending is a shocker, but there aren't easy lessons from it. —Janet Manley
Private Citizens
Tony Tulathimutte
In another dip into the post-collegiate crystal ball, we meet four uber-Millennials who live in the Bay Area, that petri dish of righteous social consciousness, naked startup ambition, and privilege. The cast are: nonprofit activist Cory; nerdy coder Will with his super-hot, super ambitious quadriplegic girlfriend; sexually free-wheeling Linda, and the chemically unbalanced Henrik. What a MESS these guys make! It almost makes me feel good about my own post-college dalliances, except that I can spot my own weaknesses among those Tulathimutte so sharply points out.
This book is funny, and will also call you on all your b.s. Just who are we even? Reading this book is a start at finding out… —SparkNotes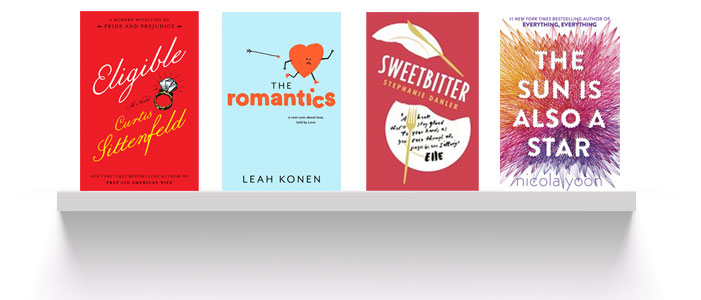 The Sun Is Also a Star
Nicola Yoon
For a sweet story about love in the time of deportation, you must must pick up Nicola Yoon's second novel, The Sun Is Also A Star. In something of an homage to Before Sunset, only with a less brooding Ethan Hawke, two teens start out their day in New York City on totally different pages. Daniel, a Korean American who lives in Flushing, is headed into Manhattan for an interview with a Yale alum, even though he isn't convinced that following his parents' wishes and becoming a doctor is what he really wants. Natasha is headed into the city from Brooklyn in a last-ditch effort to thwart the deportation of her family back to Jamaica.
Daniel is a romantic, a Mulder. Natasha is a science geek, a Scully. When they collide, each wonders if their view of the universe is entirely wrong. Natasha has to wonder if there might be more magic to the stars than than simply the laws of physics, and Daniel has to wonder if there are gravitational forces greater than himself at work he can place faith in. Public transportation warning: Boy does this book get you at the end. —Janet Manley
Sweetbitter
Stephanie Danler
For #spoilers about your life post-school, get yourself this flawless story about a girl who moves to New York City, ready for her real life to begin, and finds herself waitressing at a rah-rah restaurant. As with all things when you are 22, the city feels like the center of the universe to Tess, and at the core of that universe stands a swarthy bartender, Jake, and prickly/older/world-worn mentor Simone. As Tess is educated in wine, good food, and *culture,* she also gets some harsh lessons on love (of COURSE). This is your life. —SparkNotes 
The Romantics
Leah Konen
Have you ever wondered if someone was up there, pulling the strings when it comes to romance? Or marveled at how two people can meet at the right time and the right place, seemingly against the odds of chance? In Leah Konen's new book, Love is a character—a sort of modern-day Cupid narrating the story and helping humans get together with the people who are truly right for them. This includes Gael, a seventeen-year-old movie nut still smarting from his first real heartbreak and dangerously close to falling for the wrong girl. —SparkNotes
Eligible
Curtis Sittenfeld
The latest edition of Fitzwilliam Spankpants (Darcy) is a scrumptiously douchy neurosurgeon who appears sweaty and hot in teeny jogging shorts in Curtis Sittenfeld's hilarious modern retelling of your fav Austen novel, Eligible.
It's fun to think about how you would transpose the world of the Bennet family to current-day America. Sittenfeld places the Bennets in uncool Middle America (Cincinnati): Lydia and Kitty are basic b*tches into Crossfit, Mary is _maybe into bowling?_, Jane is a Brooklynite yoga instructor, and Lizzie is a women's magazine writer in New York, each brought home to their twin beds after their father suffers a heart attack. Pemberley is a gorgeous historical estate in the monied, buccholic hills of Northern California, "Chip" Bingley is a hopeless romantic (a cardiac surgeon! *metaphor*) who recently competed on a Bachelor-esque dating show called Eligible in a fruitless search for love, and Mr Collins is an insufferable tech start-up billionaire from Silicon Valley (of course!). It's all pretty pitch-perfect. —Janet Manley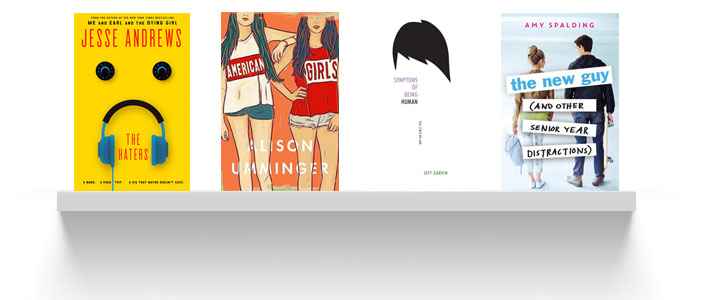 The Haters
Jesse Andrews
You're probably thinking, Who are the The Haters, and what are they hating on?
1. That's why it's such a brilliant title, and 2. you'll have to read to find out. What I will tell you is that the person who has the most to say about that topic is Wes Doolittle, our narrator/bass player/hater supreme. Wes and his best friend Corey are high schoolers from Pittsburgh who trek through the hell and high water of Connecticut to attend jazz camp, which they soon realize they're wildly unprepared for.
Not to worry, though. Wes and Corey snag the attention of the one girl at this camp on their first day by throwing a justified (I think) tantrum in rehearsal. She bestows upon them the honor of a jam sesh, they have a "we just FOUND OUR SOUUUUND" epiphany, and then they jailbreak at 2 AM to go on a two-week tour of the south. Turns out they actually kind of suck and end up performing in the pits of hell (acoustics-wise), like a Chinese food buffet and for a few minutes in the backyard of a nice lady they met at CVS. Really.
Read it because you have loved Jesse Andrews since Me and Earl and The Dying Girl. —Emily Brown
American Girls
Alison Umminger
Finding herself squeezed out of her mother's life in Atlanta, Anna sneaks onto a plane to Los Angeles, with few plans beyond crashing with her sister, a struggling actor who has problems of her own. Anna is tough and resourceful, and finds herself exploring the hills and valleys of L.A. as she researches the girls in Charles Manson's murderous '60s cult for a screenplay.
As she gets deeper into the world of the Manson girls, she notices parallels between the weaknesses that led Leslie Van Houten and Susan Atkins to give up their agency to a maniac and the way her sister has become something of a victim in the dark machinery of Hollywood. (She also gets to semi-date a Disney Channel hearththrob, which is just icing.) —Lauren Passell
The New Guy
Amy Spalding
The New Guy is a YA rom-com about Jules McAllister-Morgan, whose perfectly-planned senior year goes awry when a new guy—a former boy-band member!—shows up at school, and a rival extracurricular club threatens to rattle Jules' status quo.
Music plays a big role for each of the characters in this story, just as your own life feels like it has its own soundtrack, and provides the impetus for Jules to cross paths with people she might not have. Frankly, there aren't enough novels about boy bands, and this sweet book goes part of the way to fixing that injustice! <3 —SparkNotes
Symptoms of Being Human
Jeff Garvin
What began as a writing exercise by Garvin to understand the assault of a young trans youth turns real in a year that also saw bullying step into the mainstream. Riley is a genderfluid teen whose identity is complicated by the visibility of Riley's father, a congressman, and who starts a tumblr to talk about the challenges of operating outside the gender binary.
Without spoiling anything, the book manages to pry the pronouns we typically cling to right out of your hands and to present a complex, vulnerable, and lovable main character in a story that will hit you where it hurts. —SparkNotes
Did your fav picks make the list? What else would you deem the ONE GOOD THING about 2016?
Trending on the Sparknotes Blog