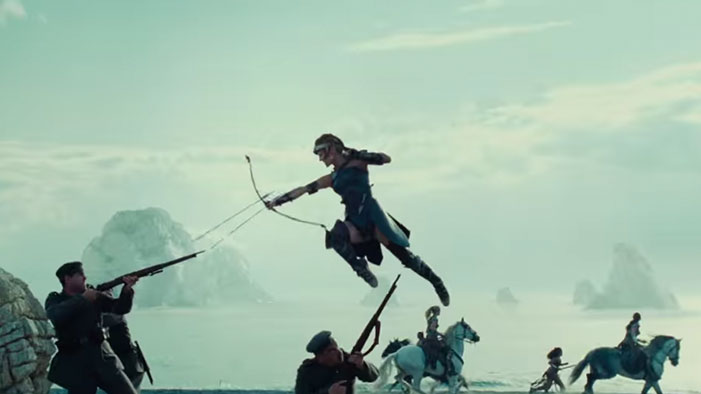 Comic Con is just like Christmas, if, on Christmas morning, instead of opening presents, you got a bunch of IOU notes for presents you'd be able to enjoy in about a year or so. BUT, THOSE PRESENTS ARE GOING TO BE EPIC WHEN THEY ARRIVE. At least that's what all the studios want the eager and sweaty fans piled into Hall H to think. And, based on the plethora of new trailers and footage that popped up this week, it looks like studios and audiences alike will have some winners to look forward to this year and next.
BRAND SPANKING NEW STUFF
After the world agreed in unison that Wonder Woman was far and away the best thing about Batman v. Superman: Dawn of Justice, excitement for her standalone movie rose to a fever pitch—and the trailer does not disappoint. While we're still not entirely digging the outfit (besides those killer Iron-Man-esque boots), Wonder Woman spends a good deal of time kicking serious buttage and being generally strong and awesome in this trailer. Her blossoming romance with Chris Pine is featured pretty heavily, but you better believe the audience knows who's wearing the pants (OH WAIT, OR NO PANTS AT ALL) in that relationship. WW slays Pine with the killer line: "What I do is not up to you." Because DURRRRR Chris Pine.
Not an official trailer, but this Comic Con footage for Justice League is likely to whet (or significantly increase) the appetites of DC fanboys everywhere. Not only is The Bat back, but the clip gives you a look at Jason Momoa's Aquaman, Ezra Miller's Flash, and Ray Fisher's Cyborg. Hopefully, DC has taken a page from Marvel's book and realized that the most beloved parts of the Marvel movies are the relationships between the characters. After all, The Avengers would have been pretty dull without the witty repartee between Iron Man, Thor, Loki, and the rest of the gang.
One wouldn't think you would need such an incredible cast for a movie about a mountain-sized ape, but they sure as heck got one. The recent Oscar-winner Brie Larson stars alongside T-Swizzle beau Tom Hiddleston as well as Samuel L. Jackson, John Goodman, Toby Kebbell, Thomas Mann, Corey Hawkins, Jason Mitchell, and (believe it or not) many more talented actors who will all battle with a much larger Kong than we remember hanging from The Empire State Building.
King Arthur: Legend of the Sword
After dropping out as Christian Grey in the steamy book adaptation of Fifty Shades of Grey, Charlie Hunnam is coming back swinging as the lead in King Arthur: Legend of the Sword. After years of pretty lackluster renditions of this story in film and TV, we were ready to skip right over another medieval retelling of King Arthur. But, an edgy trailer with some great actors and just a hint of magic may have changed our minds. Not to mention the director, Guy Ritchie, has got undeniable style.
Thanks to the massive success of The Lego Movie, Lego Batman has earned himself a spinoff. Balancing out Lego Batman's hardcore edge will be his newly adopted and very cheerful son, who looks to be taking on the role of Robin. If the movie can keep the jokes rolling as quickly as the trailer does, it may be another hit for Lego.
Please note, this is the only TV trailer from Comic Con we're including here. Not because there weren't other great TV trailers, but rather because… SHERLOCK. This glimpse into season 4 has got us feeling all the feels about our favorite anti-social, genius detective. While it seems unlikely that Moriarty will make a return, we're holding out hope FOREVER. We will literally never stop hoping for more Moriarty. On the downside, the ambiguous phrase "Coming in 2017" hurts our souls. WHEN? GOOD GOD MAN, WHEN IN 2017?
DELIGHTFUL NEW LOOKS AT ALREADY BUZZED ABOUT MOVIES
Fantastic Beasts and Where to Find Them
Looks like Fantastic Beasts And Where To Find Them is starting to live up to its name. In this fresh look at the latest expansion of the Harry Potter universe, we get a peek at the scads of new and unbelievable creatures from the magical world that barrel their way through 1920s New York. No signs yet as to what, if anything, the movie has to do with the newly released Ilvermorny information though.
A lot more of the same here, but we're not mad about it. People have loved this twisted, baddie take on a superhero movie, and the new footage gives us even more of the villains-turned-semi-heroes that we're already pumped to see. Although very brief, you also can spot a bit more of Harley Quinn and The Joker together, and we're dying to know what's going on there.
Is it just us, or is this very similar to the first trailer? A lot of mysterious time and space bending pep talks, buildings folding in on themselves Inception-style, and very little detail as to what the plot might be. The cast is pretty mind-blowing though including some serious, dramatic heavy hitters like Benedict Cumberbatch, Tilda Swinton, Mads Mikkelsen, Chiwetel Ejiofor, and Benedict Wong. So, maybe we're just not "getting it" yet?
What movie are you looking forward to the most? Which trailer tickles your fancy?