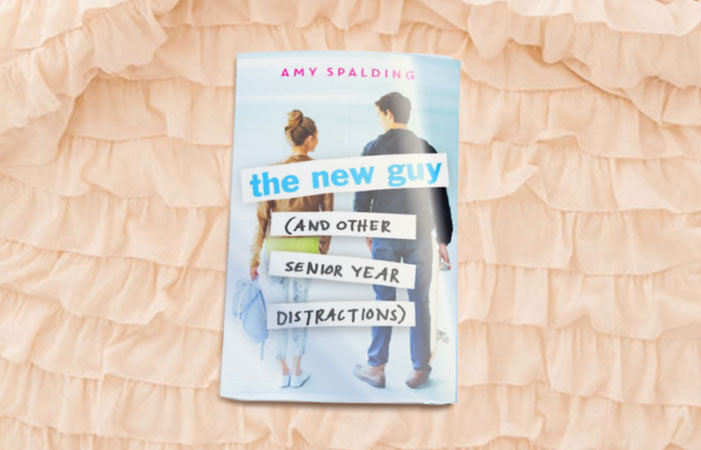 How do YA authors choose what genre to write in? Is it possible to write about what you love? What advice do published writers have for people just getting started?
I got the chance to chat with YA author Amy Spalding—whose newest novel, The New Guy (and Other Senior Year Distractions), is out today—about all of these questions and more. If you've ever dreamed of writing your own YA novel, keep reading.
"I've Been Writing YA For As Long As I Can Remember": The New Guy (and Other Amy Spalding Facts)
So let's talk New Guy. I am so excited to read it, but for Sparklers who aren't familiar with what to expect, what's this book about?
The New Guy is a young adult romantic comedy about Jules McAllister-Morgan, whose perfectly-planned senior year goes awry when a new guy—a former boy-band member!—shows up at school, and a rival extracurricular club threatens to rattle Jules' status quo.
This is your fourth YA novel, right? How long have you been writing YA?
This is my fourth YA novel!
I've been writing YA for as long as I can remember, really, but for a long time I didn't really know what I was writing was YA. I'm naturally drawn to coming-of-age stories, of characters in all of these really big moments and firsts. Back in 2006 or 2007, I finally realized that what I was writing was YA, and then I really was excited to realize there was this genre I fit into, and that there were so many books by others to devour.
"I just love writing about real life": Finding Your Genre
I wanted to ask you about genre, so I'm glad you brought it up. YA is in itself a genre, and then there is fantasy YA and dystopian YA and sci-fi YA and supernatural YA and things like that (and publishers probably use different words to describe them). Is there a subgenre name for "realistic YA?"
It's usually known as Contemporary Realistic, yes!
Did you decide "okay, I'm going to be a Contemporary Realistic writer," or was that something you figured out as you started writing?
I think I didn't even realize I had a choice? I just love writing about real life, so that's what I did! Growing up, I was most drawn to books about girls living here in the real world, dealing with issues like crushes and parents and first relationships and problems at school. So it felt naturally that I'd want to set books in this world as well. If I was forced to write a book about vampires, I'd still probably just want to write about how awkward they feel at school or something.
"It's the soundtrack to your first love": Writing Music in YA
One of the things I love about your books is how much music plays a role in everyone's stories; you've got Devan in an arts school's production of Sondheim's Merrily We Roll Along in The Reece Malcolm List, and Riley sneaking out to rock shows in Kissing Ted Callahan (And Other Guys). I haven't read The New Guy yet, but I can guess by the description that music is going to be a huge part of this story too.
To be fair, Riley only SNEAKS OUT to one rock show! For the most part she just has very lenient parents!
Fair enough! And she also hangs out in a record store, and she's in a band, right?
Very true!
I remember music being HUGE when I was in high school, between the choir and the band and the school musicals and the CDs I saved up to buy and the hours I spent listening to the radio. A few friends and I tried to start a band once, too. (We wrote one song before breaking up.) Was music also a huge part of your teenage years, and do you think about those experiences as you write your characters?
Yes, absolutely, and I've read in numerous places that the music you listen to in your teen years often has the most resonance and connection for you. My personal experience definitely matches that, so for me it goes without saying that music will play a huge role in the lives of my characters. When music is big for you, it trickles into everything! It might be what you perform or who you go see play at a local club, but it's also what's playing in your car or on your iPhone. It's the soundtrack to your crush or your first love or your breakup. It threads through your whole life.
It was actually interesting writing Jules' character in The New Guy, because even though she falls for a former boy band member, she herself is not a huge music fan. She's definitely unlike me in a lot of ways.
"The first step to becoming an author is to read": Advice to Writers
What advice do you have for Sparklers who are interested in writing YA? What should they be doing now, and what can they do in the future when they start thinking about novels and publishing?
The first step to becoming an author is to read. Read a lot! Read all kinds of books: books like you want to write, books that interest you but are different from your own style, books you hear your friends talking about, books for classes, books that catch your eye at the library or bookstore. You'll really develop a sense of the kinds of stories that matter to you, and by then you'll probably already have the seeds of ideas for characters, or stories, or settings.
At that point, just have fun with it! The first draft is where you get to have fun and not worry about being good yet—and this is true for a first-time author or an author with several books under their belt already! Have fun with it, and then do it again! If you want to, share your writing with your friends to get feedback.
Once you know you'd like to get more serious about publishing, spend some time looking up how the process works, and you'll be able to find out the names of agents who are accepting submissions. The great thing is that there are so many resources online for looking up agents, crafting a great query letter, and giving you an idea of what that whole process is like. Most of all, though, HAVE FUN.
Writing can be hard and frustrating, but it should bring you joy!
Is writing your Club Med? What genres are you most interested in reading—or writing someday? Are you totally inspired to work on your own YA novel after reading Amy Spalding's story?
Trending on the Sparknotes Blog