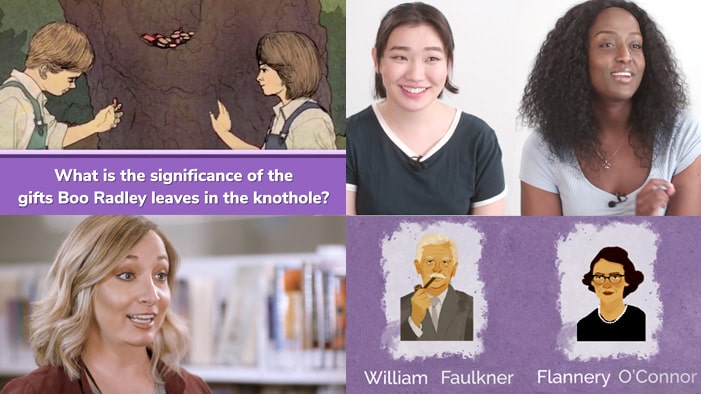 To Kill a Mockingbird by Harper Lee is an acclaimed literary classic, a staple of the English class syllabus, and, most recently, a lauded Broadway play–and it also happens to be the most-visited guide on SparkNotes.
For these reasons, we've chosen To Kill a Mockingbird to kick off our new "SparkNotes Book of the Month" promotion. Every month, we'll pick a work, author, or theme and create special content and videos about it that are tailor-made to enhance your reading experience and provide valuable insights that will help you in class.
Below, you'll find a list of some of the great (and free!) resources we offer for To Kill a Mockingbird, as well as 4 new videos that explore everything from the Southern Gothic genre to Scout's famous ham costume.
The To Kill a Mockingbird SparkNote
To Kill a Mockingbird Writing Help (including a Sample A+ Essay and Suggested Essay Topics)
Blogging the Classics: To Kill a Mockingbird
Videos
To Kill a Mockingbird Literature Guide Preview
The most popular study guide on SparkNotes just got even better. Watch this video to learn more about some of the great new content we've added!
5 Keys to Understanding To Kill a Mockingbird
English teacher Lauren Cavarra unlocks crucial topics that will enhance your understanding and appreciation of the book. Topics include the theme of lying in the novel and the role of Calpurnia.
Student Interviews
Student readers of the novel weigh in on such questions as "Is Atticus Finch perfect?" and "What food costume would you have worn to the Maycomb's agricultural pageant?"
To Kill a Mockingbird and the Southern Gothic Tradition
Did you know that To Kill a Mockingbird descends from a literary tradition with roots that go all the way back to Frankenstein? This educational and entertaining video traces the novel's literary heritage and gives you a deeper understanding of this genre.