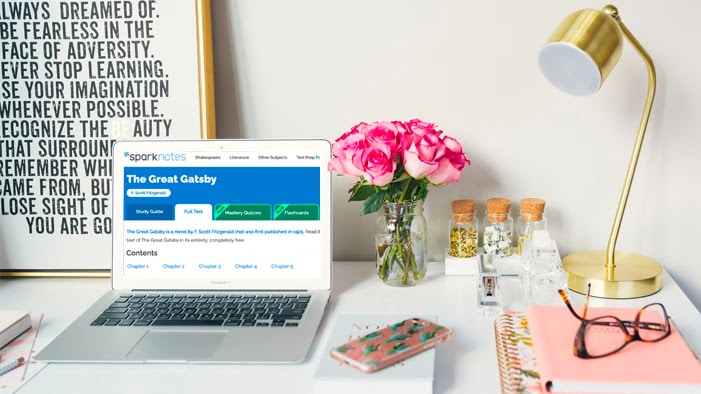 Picture this: it's your first day back after an amazing, lazy Winter Break, during which you watched Netflix for 900 consecutive hours and had several very promising text convos with your crush. You swan into English class with the unearned confidence of a male suitor in any Jane Austen novel—because after all, what could go wrong? EVERYTHING, THAT'S WHAT. It suddenly turns out that you need to read 2 books by next week, you have an essay due Friday, and there's probably a pop quiz hovering above your head, ready to strike at any moment.
Without this post, that nightmare scenario could very well be your reality. Thankfully, you're here, so instead of facing panic and failure come January, you will on the brink of a glorious SparkAchievement: acing your class and all your assignments using the excellent, FREE resources on SparkNotes! Check out the awesome stuff below, and we promise that by the time school rolls back around in January, you'll be relaxed and prepared (instead of soaked in a procrastination-induced flop sweat).
Full Texts, For Free! No, it's not a dream: SparkNotes now has the complete published texts of more than 100 classic novels! So if you leave your book on the bus, or you throw it at your crush in a desperate ploy to get his attention (we've all tried it), don't worry—you can come to SparkNotes and read the entire book online, right here. Getting a great book for free? That's a SparkAchievement all by itself! Here are some of our personal favorites:
–Pride and Prejudice
–The Odyssey
–The Great Gatsby
Pop Quiz Anxiety, Meet Your Match! Prepare yourself with our study quizzes, which are designed to test your knowledge about plot, setting, and other important details! Check your comprehension as you go with quizzes after every chapter, then take a full book quiz at the end to ensure you understand the bigger picture. And if you're looking for a challenge, we've also got quizzes about characters, themes, and context! We predict the SparkAchievement of a perfect score in your future.
Brand New SparkNotes! In our never-ending quest to help you understand every book ever written (it's a lofty goal, but we'll accomplish it eventually!), we're always adding new study guides to the site—in fact, we've published 50 over the last 9 months, and we're adding more all the time! Each of the below guides has in-depth summaries and analyses for every chapter, plus descriptions of major and minor characters and important quotations that highlight the book's themes.
The Vanishing Half by Brit Bennett
The Other Wes Moore by Wes Moore
Giovanni's Room by James Baldwin
Everything I Never Told You by Celeste Ng
A Deadly Education by Naomi Novik
Station Eleven by Emily St. John Mandel
The Seven Husbands of Evelyn Hugo by Taylor Jenkins Reid
On The Come Up by Angie Thomas
Important Quotes=An Essay Essential. When your English teacher asks you to write an essay—about, say, the significance of the American Dream in The Great Gatsby, or the theme of ambition in Macbeth—there's a 99% chance they're also going to say, "And don't forget to include quotes from the book!" In the past, those words may have struck fear into your heart, but we're about to give you a secret weapon: the Quotes section featured in almost every single one of our guides! We not only give you detailed analysis for five of the most important quotes from the book or play, we also organize quotes by theme, character, section, symbol, and setting. Including and analyzing quotes just became the easiest part of writing your essay!
Essay Inspiration for Every Book! You finally did it: you finished The Great Gatsby, and you never have to think about the futility of the American Dream or read the words "old sport" again. Right? Wrong. Sure, you finished the book, but now comes the hard part: writing your essay. Fortunately, we can help! You can find Suggested Essay Topics in the Essays section of almost every SparkNotes study guide, including Pride and Prejudice, Macbeth, To Kill A Mockingbird, and many more!
If you check out all of the brilliant free resources we listed above, we have no doubt that that you will return from Winter Break as a scholar, a hero, and a genius. No matter how daunting the tests, quizzes, and essays are, you will accomplish the greatest SparkAchievement of your life: acing them all without breaking a sweat!