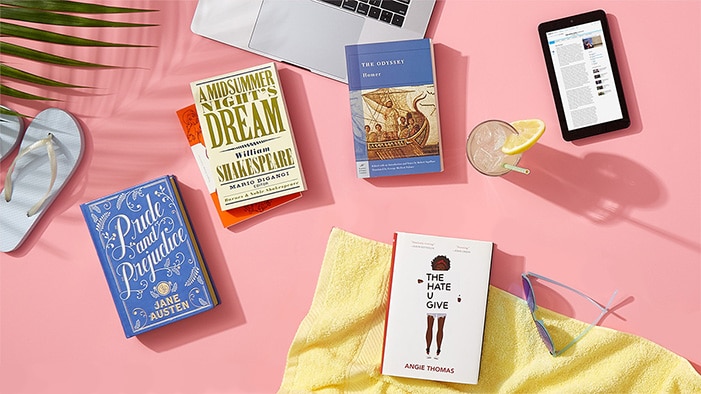 There's nothing worse than heading back to school in the fall and realizing that you did approximately zero reading for English class over the summer (to be fair, Netflix wasn't going to watch itself for 1,300 hours). Luckily, we've created a ton of free online resources that'll help you understand your English assignments, no matter what book your teacher wants you to read. We also picked five of the most SparkNote'd titles and created brand new videos that discuss and explain important topics like context, theme, motif, and more. All of our new resources are listed below—check 'em out, and we promise that by the time school rolls back around, you'll be relaxed and prepared (instead of soaked in a procrastination-induced flop sweat, which definitely won't look cute in your yearbook pic).
Full Texts, For Free!
For the first time, SparkNotes is offering the complete published text of Pride and Prejudice and The Odyssey online, completely free! So if you leave your book on the bus, or you throw it at your crush in a desperate ploy to get his attention (we've all tried it), don't worry—you can come to SparkNotes and read the entire book online, right here. Over the summer, we'll roll out 60 more Full Text titles, so keep checking back with us!
Resources for Pride and Prejudice by Jane Austen
New! Full Text
New Video: Reputation As A Theme in Pride and Prejudice
English teacher Lauren Cavarra discusses whether Jane Austen's novel critiques the social structures that constrain women, or accepts their inevitability.
New Video: Students Talk About Pride and Prejudice
Students rate the various couples in the novel and weigh in on whether it's fair for all the Bennet sisters' reputations to be tarnished by Lydia running off with Wickham.
Resources for The Hate U Give by Angie Thomas
New Video: Blackness and Identity as a Theme in The Hate U Give
English teacher Lauren Cavarra discusses main character Starr's efforts to reconcile her two worlds—the primarily white Williamson Prep and the primarily black Garden Heights community—and find a way to honor her whole self.
New SparkNote: A study guide for Angie Thomas's popular novel about a teenage girl who grapples with racism, police brutality, and activism. Click here to read an in-depth character analysis of Starr Carter, a plot summary, important quotes, and more.
Resources for A Midsummer Night's Dream by William Shakespeare
New Video: Contrast As a Motif in A Midsummer Night's Dream
Teacher Lauren Cavarra discusses how the juxtaposition of extraordinary differences emerges as the most important characteristic of the play's surreal and magical atmosphere.
New Video: Students Talk About A Midsummer Night's Dream
Students discuss the meaning of the quote, "The course of true love never did run smooth," and respond to other questions about Shakespeare's great summertime fantasy.
No Fear Shakespeare Translation and Study Guide
Resources for The Crucible by Arthur Miller
New Video: The Historical and Social Context of The Crucible
Teacher Lauren Cavarra explores how the witch-hunt hysteria in the play functions as a direct allegory for the anti-communist hysteria that took place in America in the 1950s.
New Video: Students Talk About The Crucible
Students discuss the role of class and race in the play, and weigh in on whether John Proctor is really a hero.
Resources for The Odyssey by Homer
New! Full Text